Gamma ransomware — yet another Dharma and Crysis variant that emerged less than a week after its predecessor

Gamma ransomware is a cryptovirus that demands a ransom for encoded data that virus marked with .gamma file extension.
Gamma ransomware is a file-encrypting virus that comes from a well-known ransomware family – Dharma and Crysis. This cryptovirus started attacking users back in 2016, and, in less than two years, the malware authors have released fifteen different variants. Al versions are sharing similar file extensions, the same name for the ransom note, and AES encryption algorithm.[1] However, aside from these similarities, each version is using a different contact email and file marker – extension. In this particular case, encrypted data acquires .id-%ID%.[bebenrowan@aol.com].gamma file appendix and requires using bebenrowan@aol.com as a contact email to reach hackers. However, it seems that recently Gamma ransomware was updated and started using Glynnaddey@aol.com to mark files and contact its victims. Unfortunately, the virus has already managed to affect the hernia repair institute in California.[2]
NAME
Gamma
TYPE
Ransomware
CATEGORY
Cryptovirus
FAMILY
Dharma
OTHER VERSIONS
Brrr;
Combo;
Arrow;
Zzzz;
Onion;
Bip;etc.
RANSOM NOTE
Info.hta and FILES ENCRYPTED.txt
FILE EXTENSION
.id-%ID%.[bebenrowan@aol.com].gamma
DISTRIBUTION
Malicious spam emails
CONTACT EMAIL
bebenrowan@aol.com; Glynnaddey@aol.com
ELIMINATION
Automatic Gamma ransomware removal can be done using Reimage
Gamma ransomware virus belongs to one of the most dangerous cyber infection category. File-encrypting malware aims to extort cryptocurrency from users by encrypting their data with an army-grade encryption algorithm. .gamma appendix marks encrypted data, so you know which files cannot be opened.
Gamma ransomware developers claim that they can decrypt these locked files, but unfortunately, there is a possibility that crooks may disappear after you pay the ransom. The specific amount is not known, and it probably differs from victim to victim, it might range anything between $20 to $10,000, or even more.
When your files get encrypted, you may notice a ransom note in every folder containing encoded data. The file called Info.hta or FILES ENCRYPTED.txt includes a simple message that your files have been encrypted and you need to pay up. It also has instructions on how to create a cryptocurrency wallet. The content may differ a bit, depending on the version, but the main display is similar.
Ransom note may contain as simple of a message as the following:
ATTENTION!
At the moment, your system is not protected.
We can fix it and restore files.
You should remove Gamma ransomware instead of contacting the people behind this virus. And, since various antivirus programs detect[3] this ransomware, you can do that using reputable anti-malware tool like Reimage. This is a program specially designed to detect, block and get rid of various malware.
A sample analysis of Gamma ransomware virus showed up on 54 program screens from 67 as malicious. Some of the given names include:
TR/Dropper.Gen
Trojan.Mauvaise.SL1
Win32:Malware-gen
Trojan.Ransom.Crysis.E
Trojan-Ransom.Win32.Crusis.to
Ransom.Crysis.Generic
Mal_Crysis.
Gamma ransomware removal using reputable anti-malware tools can be a fairly quick process. Automatic virus removal cleans your system thoroughly and removes all possible threats that you perhaps had no idea about. Researchers[4] advise terminating those threats before you attempt any data recovery. If you connect your backup device to the infected machine, all data will be encrypted as well.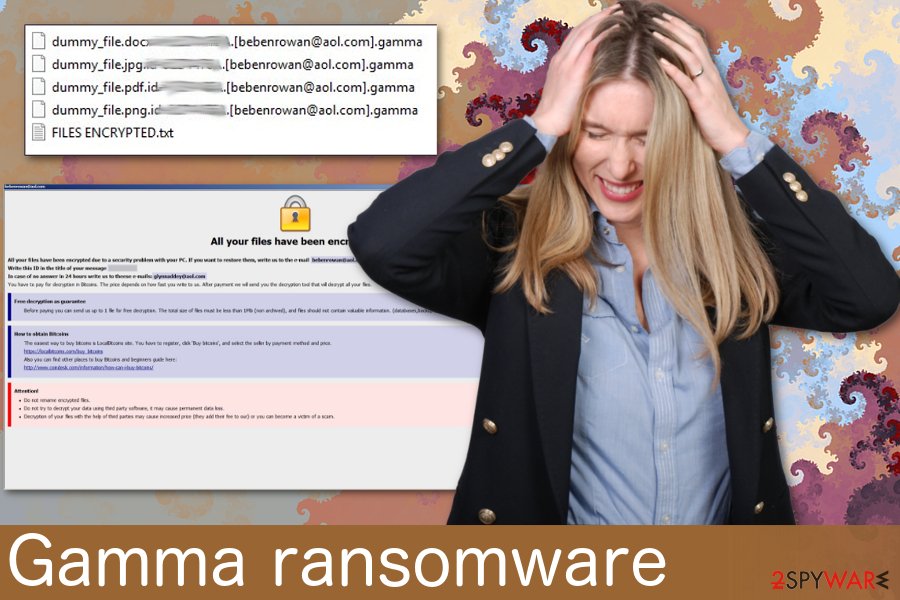 Slide 1 of 10
Questionable email attachments include malicious script
Ransomware-type cyber infections are silent intruders as any other computer virus. However, other malware can be designed to spread direct ransomware script on the system or open backdoor for this threat. The most common method of spreading trojans, worms or ransomware directly is spam email attachments.
In most cases, these emails look safe because they contain invoices, receipts or information about some unauthorized money transaction. Unfortunately, malicious actors misuse various names of companies and insert malicious payload directly into the attachment. As soon as the victim opens the file on their device malicious script is executed, and file encryption begins.
To spot a phishing email, look out for typos, grammar mistakes, and a bogus "From" address. If you recognize the scam, delete the email immediately. If you are not entirely sure, scan the attachment using anti-malware software.
Gamma ransomware removal is important if you want to have a safe device
Do not use bebenrowan@aol.com or lynnaddey@aol.com to contact hackers hiding behind this threat! You should remove Gamma ransomware from your computer once and for all. The easiest way to do that is to employ anti-malware tools like Reimage, SpyHunter or Malwarebytes. This method of ransomware termination is especially important since this is a silent cyber threat that can install other malware and make changes to your device in the background.
The ransomware modifies Windows registry keys, so the malicious program is launched every time your PC is started. This is why you need to perform Gamma ransomware removal with the anti-malware application. This automatic virus elimination cleans the system thoroughly, and you can try to recover the encrypted data. If you have no external device with a backup, use our suggestions below for file recovery.
---
---